Student applications for GSoC closed a few hours ago. This is Xapian's first year as a mentoring organisation (though I've been involved in previous years with SWIG and Debian) and we've been blown away by the response from students.
If you'd have asked me when we'd got accepted, I'd have guessed we might get 20 applications and feel we'd done well, but counting up now we have 42. Ignoring two which were withdrawn (one duplicate, one a spam which surprisingly got withdrawn when I politely suggested such applications weren't useful), here is a graph of applications against time: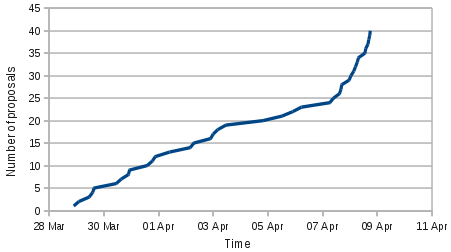 If you're an admin or a mentor, you can produce a similar graph for your own org(s) - just download this OpenDocument spreadsheet and follow the instructions inside.
Now the task of selection starts in earnest. I've gone through and marked the seven spam proposals as ineligible (that's one line proposals, proposals with no connection at all to Xapian, and proposals which are just a title and/or paste from our ideas list with a generic biography).
That leaves 33, but not all are really in the running, before our student applicants start to despair! I don't have a good picture yet, but it looks like there are something like 10-15 we'll be seriously considering.
---
Posted in xapian by Olly Betts on 2011-04-09 14:36 | Permalink