The Art of Writing Small Programs
Olly Betts
"I do believe that he takes too much pride in the brevity of his work"
— Mr. Talbot
Me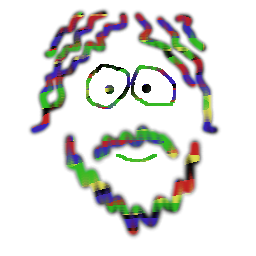 Born in 1971
Grew up in England
8-bit micro era
My First Computer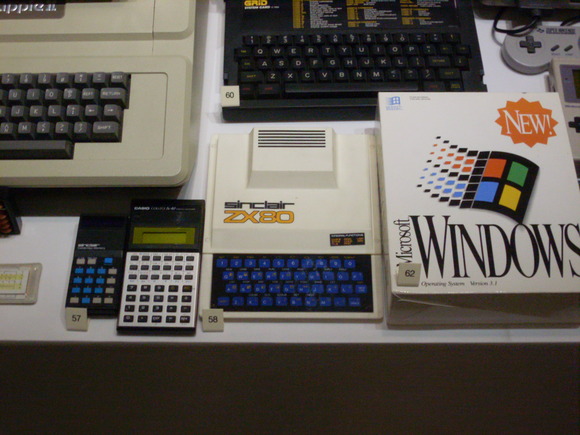 ZX81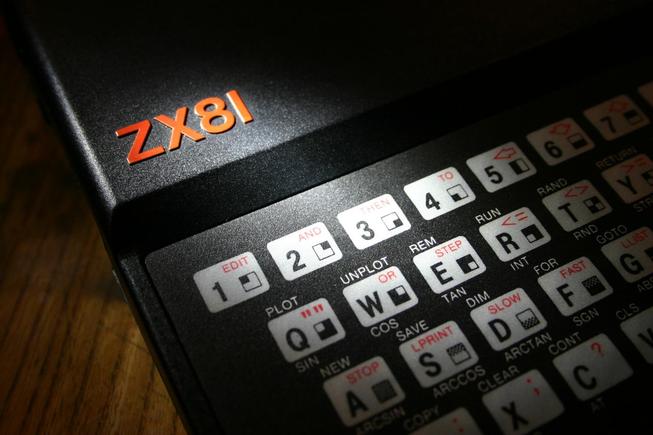 ZX81 Numeric Constants
Numeric constants need 7 bytes!
0 is NOT PI (saves 5 bytes)
1 is SGN PI (saves 5 bytes)
3 is INT PI (saves 5 bytes)
-1 is COS PI (saves 5 bytes)
2 is INT EXP SGN PI (saves 3 bytes)
-2 is SGN PI-INT PI (saves 2 bytes)
4 is INT SQR EXP PI (saves 3 bytes)
Lessons Learned
Trade-off between size and speed
…and readability!
Shaving bytes can still matter!
Xapian 1.2
Saving two bits per key gave 2.5% reduction in typical database size!
Acorn Archimedes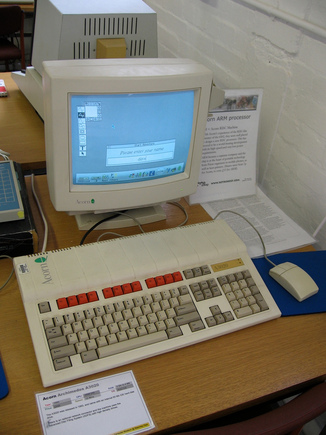 Mathematicians
"some of you may have had occasion to run into mathematicians and to wonder therefore how they got that way"
— Tom Lehrer
Rheolism

0d=d:IFdVDUd:a=POINT(32*POS,31-VPOS<<5):
RETURNELSEMODE9:GCOL-9:CLG:OFF:d=9:REPEA
TVDU30:REPEATGOSUBFALSE:IFPOS=28VDUPOS,1
5,VPOS,24;11,26:IF0ELSEIFa=0PRINT:UNTIL0
ELSEUNTILVPOS=25:v=ABSRNDMOD7:i=0:VDU489
5;3:REPEATm=9-INKEY6MOD3:FORr=TRUETO1:t=
rANDSGNt:IFt=rCOLOURv-15:VDUrEORm:i+=m=7
AND9-6*r:IF0ELSEFORn=0TO11:d=n/3OR2EORd:
GOSUBFALSE:IF1<<(n+i)MOD12AND975AND&C259
0EC/8^vVDU2080*ABSr;:t+=a:IF0ELSENEXT,:V
DU20:UNTILt*LOGm:UNTILVPOS=3

Rheolism

0

d=d:IFdVDUd:a=POINT(32*POS,31-VPOS<<5):
RETURN

ELSEMODE9:GCOL-9:CLG:OFF:d=9:REPEA
TVDU30:REPEATGOSUBFALSE:IFPOS=28VDUPOS,1
5,VPOS,24;11,26:IF0ELSEIFa=0PRINT:UNTIL0
ELSEUNTILVPOS=25:v=ABSRNDMOD7:i=0:VDU489
5;3:REPEATm=9-INKEY6MOD3:FORr=TRUETO1:t=
rANDSGNt:IFt=rCOLOURv-15:VDUrEORm:i+=m=7
AND9-6*r:IF0ELSEFORn=0TO11:d=n/3OR2EORd:
GOSUBFALSE:IF1<<(n+i)MOD12AND975AND&C259
0EC/8^vVDU2080*ABSr;:t+=a:IF0ELSENEXT,:V
DU20:UNTILt*LOGm:UNTILVPOS=3

Rheolism

0

d=d:IFdVDUd:a=POINT(32*POS,31-VPOS<<5):
RETURN

ELSEMODE9:GCOL-9:CLG:OFF:d=9:REPEA
TVDU30:REPEAT

GOSUBFALSE

:IFPOS=28VDUPOS,1
5,VPOS,24;11,26:IF0ELSEIFa=0PRINT:UNTIL0
ELSEUNTILVPOS=25:v=ABSRNDMOD7:i=0:VDU489
5;3:REPEATm=9-INKEY6MOD3:FORr=TRUETO1:t=
rANDSGNt:IFt=rCOLOURv-15:VDUrEORm:i+=m=7
AND9-6*r:IF0ELSEFORn=0TO11:d=n/3OR2EORd:


GOSUBFALSE

:IF1<<(n+i)MOD12AND975AND&C259
0EC/8^vVDU2080*ABSr;:t+=a:IF0ELSENEXT,:V
DU20:UNTILt*LOGm:UNTILVPOS=3

Rheolism

0d=d:IFdVDUd:a=POINT(32*POS,31-VPOS<<5):
RETURNELSEMODE9:GCOL-9:CLG:OFF:d=9:REPEA
TVDU30:REPEATGOSUBFALSE:IFPOS=28VDUPOS,1
5,VPOS,24;11,26:IF0ELSEIFa=0PRINT:UNTIL0
ELSEUNTILVPOS=25:v=ABSRNDMOD7:i=0:VDU489
5;3:REPEATm=9-INKEY6MOD3:FORr=TRUETO1:t=
rANDSGNt:IFt=rCOLOURv-15:VDUrEORm:i+=m=7
AND9-6*r:IF0ELSEFORn=0TO11:d=n/3OR2EORd:
GOSUBFALSE:IF

1<<(n+i)MOD12AND975AND&C259
0EC/8^v

VDU2080*ABSr;:t+=a:IF0ELSENEXT,:V
DU20:UNTILt*LOGm:UNTILVPOS=3

Extra Rheolism

0MODE9:OFF:GCOL-9:CLG:REPEATs=s+VPOS:PRI
NTCHR$30s:REPEATSYS6,135TOi,p,d:PRINTTAB
(p=0)CHR$9;:IFPOS=22VDU3100;VPOS,21;6667
;:UNTIL0ELSEUNTILVPOS=25:v=ABSRNDMOD7:VD
U31:COLOUR3:REPEATm=9-INKEY(INKEYTRUEOR6
)MOD3:FORr=TRUETO1:t=rANDSGNt:IFt=rCOLOU
Rv-15:VDUrEORm:i+=m=7AND9-6*r:IF0ELSEFOR
n=0TO11:d=nDIV3OR2EORd:VDUd:IF1<<(n+i)MO
D12AND&C2590ECDIV8^vAND975t+=POINT(p*POS
,31-VPOS<<5):IFrVDUp,8:IF0ELSENEXT,:VDU2
0:UNTILt*LOGm:UNTILVPOS=3:Z

Extra Rheolism

0MODE9:OFF:GCOL-9:CLG:REPEAT

s=s+VPOS:PRI
NTCHR$30s

:REPEATSYS6,135TOi,p,d:PRINTTAB
(p=0)CHR$9;:IFPOS=22VDU3100;VPOS,21;6667
;:UNTIL0ELSEUNTILVPOS=25:v=ABSRNDMOD7:VD
U31:COLOUR3:REPEATm=9-INKEY(INKEYTRUEOR6
)MOD3:FORr=TRUETO1:t=rANDSGNt:IFt=rCOLOU
Rv-15:VDUrEORm:i+=m=7AND9-6*r:IF0ELSEFOR
n=0TO11:d=nDIV3OR2EORd:VDUd:IF1<<(n+i)MO
D12AND&C2590ECDIV8^vAND975t+=POINT(p*POS
,31-VPOS<<5):IFrVDUp,8:IF0ELSENEXT,:VDU2
0:UNTILt*LOGm:UNTILVPOS=3:Z

Extra Rheolism

0MODE9:OFF:GCOL-9:CLG:REPEATs=s+VPOS:PRI
NTCHR$30s:

REPEATSYS6,135TOi,p,d:PRINTTAB
(p=0)CHR$9;:IFPOS=22VDU3100;VPOS,21;6667
;:UNTIL0ELSEUNTILVPOS=25

:v=ABSRNDMOD7:VD
U31:COLOUR3:REPEATm=9-INKEY(INKEYTRUEOR6
)MOD3:FORr=TRUETO1:t=rANDSGNt:IFt=rCOLOU
Rv-15:VDUrEORm:i+=m=7AND9-6*r:IF0ELSEFOR
n=0TO11:d=nDIV3OR2EORd:VDUd:IF1<<(n+i)MO
D12AND&C2590ECDIV8^vAND975t+=POINT(p*POS
,31-VPOS<<5):IFrVDUp,8:IF0ELSENEXT,:VDU2
0:UNTILt*LOGm:UNTILVPOS=3:Z

Extra Rheolism

0MODE9:OFF:GCOL-9:CLG:REPEATs=s+VPOS:PRI
NTCHR$30s:REPEATSYS6,135TOi,p,d:PRINTTAB
(p=0)CHR$9;:IFPOS=22VDU3100;VPOS,21;6667
;:UNTIL0ELSEUNTILVPOS=25:v=ABSRNDMOD7:VD
U31:COLOUR3:REPEATm=9-INKEY(INKEYTRUEOR6
)MOD3:FORr=TRUETO1:t=rANDSGNt:IFt=rCOLOU
Rv-15:VDUrEORm:i+=m=7AND9-6*r:IF0ELSEFOR
n=0TO11:d=nDIV3OR2EORd:VDUd:IF1<<(n+i)MO
D12AND&C2590ECDIV8^vAND975t+=POINT(p*POS
,31-VPOS<<5):IFrVDUp,8:IF0ELSENEXT,:VDU2
0:UNTILt*LOGm:UNTILVPOS=3:

Z



Extra Rheolism
Demo…
Three things to take away
Geography teachers: sarcastic but insightful
Interesting things get done when you should to be doing something else
Tinkerability
Tinkerability
Not Open Source, but "recoverable source" at least
Kit options common
Machines typically shipped with technical schematics
Today, Open Source and Open Hardware offer this
The End
Questions welcome, now (if time) or later
Links